Artificial Intelligence and Machine Learning in Product Master Data Management
September 12, 2018 @ 1:30 pm

-

5:30 pm
|
Free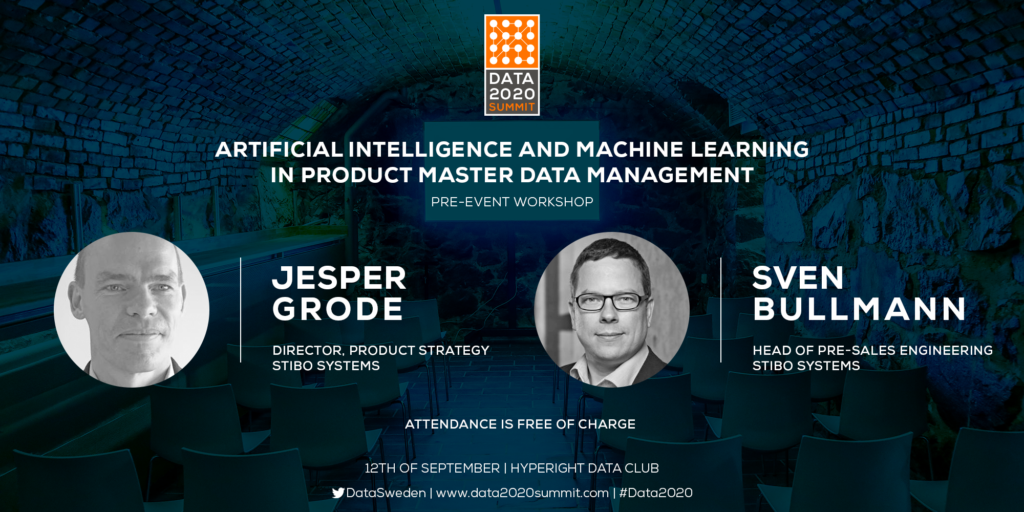 Across data domains, industries and the supply chain, businesses today are facing seemingly contradictory challenges
Rapidly increasing data volumes and data complexity
Decreasing time-to-value for your products, services, and data
Extracting more value from your business data
Market and price pressure for increased efficiency
These demands are not unique to master data and master data management, but they are particularly significant market drivers for this type of business systems. Your existing data management systems and processes may not offer the solutions you are looking for to solve these business problems in a way that is scalable and operationally viable.
During this workshop, you will have the opportunity to discuss these challenges with your peers. We will facilitate discussions on "Process Optimization, Decision Support, and Automation", "Adaptive UI & Improved UX" and "Data Quality – the Big Picture". The workshop will be spiced up with a few short demonstrations of for instance Image Recognition Capabilities in Product MDM.
Outcome:
Information and knowledge sharing with peers on opportunities to drive business outcomes through process optimization, decision support and automation.
Prerequisites:
A whole-hearted interest in AI/ML and perhaps some ideas on how to leverage this within Product MDM on known challenges.
Workshop Leaders
Jesper Grode, Director, Product Strategy, Stibo Systems
Jesper has two decades of experience with Product MDM. Joined Stibo Systems in 1998 as a developer in R&D, has worked in Professional Services, Technology Consulting, and Alliances. Currently responsible for our Product MDM and PIM offering, roadmap, product build, and for bringing the right solutions to the market. Also worked four years as Associate Professor at Denmark's largest university college of applied sciences, teaching computer science and technology. Jesper holds a PhD in computer science from the Technical University of Denmark.
Sven Bullmann, Head of Pre-sales Engineering, Stibo Systems
Joined Stibo 5 years ago and has a large experience from sales and pre-sales in Manufacturing, Distribution and Retail. Prior to joining Stibo Systems, Sven has worked in several roles within the MDM industry for 11 years.
Duration:
3.5 hours including break with refreshments.
Time:
13:30     Registration
14:00     Workshop starts
15:30     Break
16:00     Workshop continues
17:30     Networking mingle
20:00    End